Wait, brave adventurer! It's dangerous to go alone!
Before you embark on your next quests, take TLC BOT with you.


Sign up now for early access!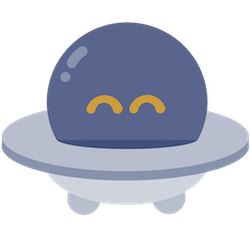 Meet TLC BOT
v2.0
Hi, I am
T
he
L
ife
C
ompanion (TLC)
BOT
! My designer,
The NPC
, likes to introduce me as a modern, analytics-driven approach to journalling and lifelogging. Inspired by the Quantified Self and Personal Analytics movements, my mission is to help you level up in all areas of your life!
Relationships
Health
Happiness
Hobbies
Craft
Work
Finance
And more!
With my recent upgrade to Version 2.0, my trusty
Life Core
module is now backed by a powerful
Insights Expansion Pack
. Together, we can effortlessly collect, reflect on, and draw insights from your memories and experiences, to help you optimise and live your best life.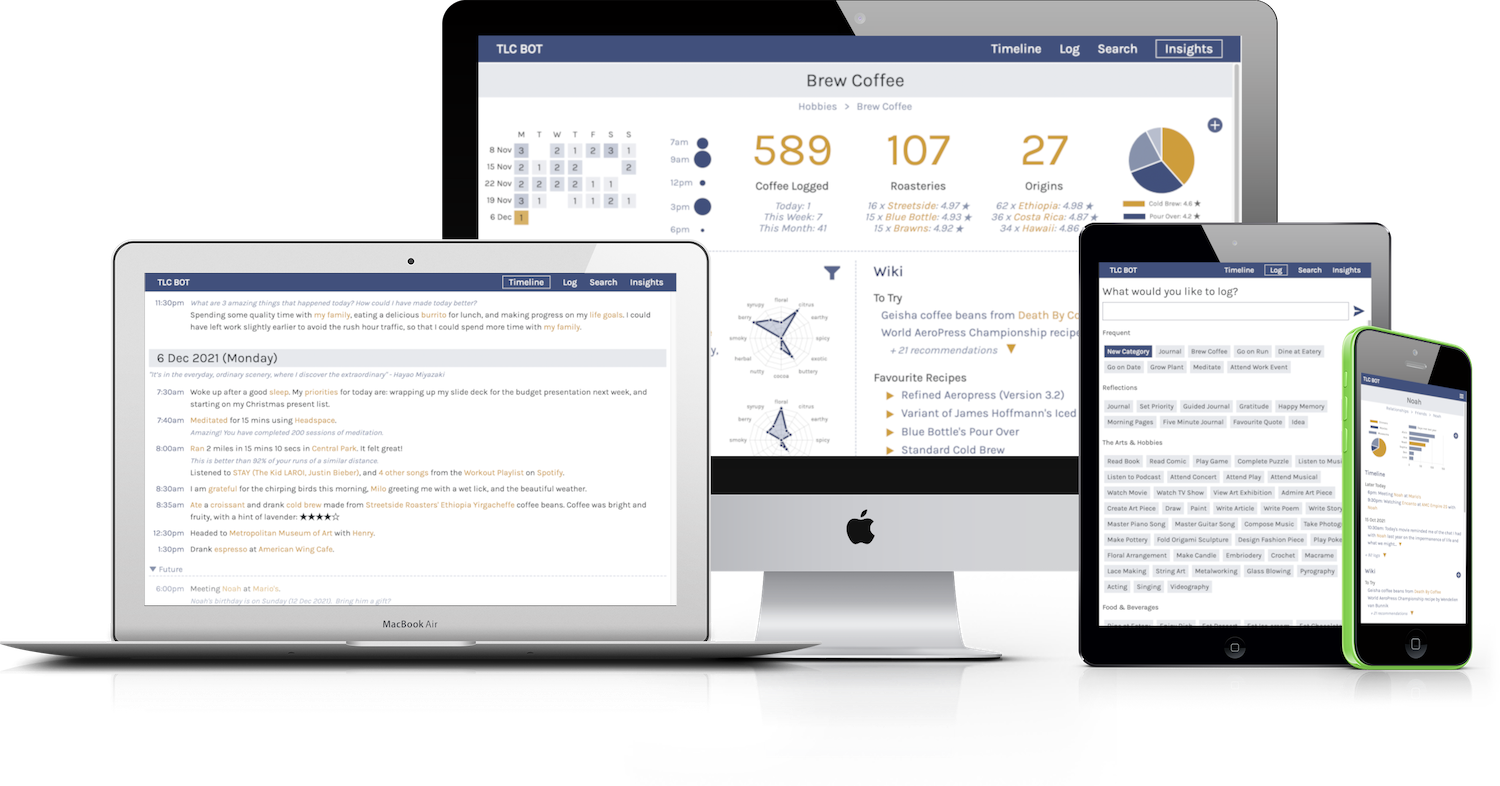 TLC BOT
v2.0

Handbook

Level Up Your Life

Your daily dose of insights and memories

Your private and personal Timeline

Log every treasured memory

Search through your second brain

Live your best life with analytics-fuelled Insights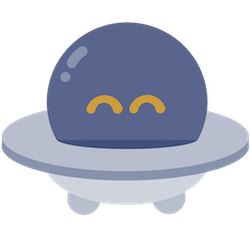 Your daily dose of insights and memories
Upon logging in, be greeted by the fresh insights generated since your last visit. This can include new happiness correlations, cross-domain recommendations, habit and goal tracking updates, and hundreds of other insight categories. TLC BOT's analytics findings can help you to optimise your happiness
(or any other metric you would like to track, e.g. health, productivity, financial well-being, etc)
, while discovering new things you'd enjoy.
TLC BOT'S TIPS
Visit the
Insights
page to access the full list of insights containing richer details and explanations.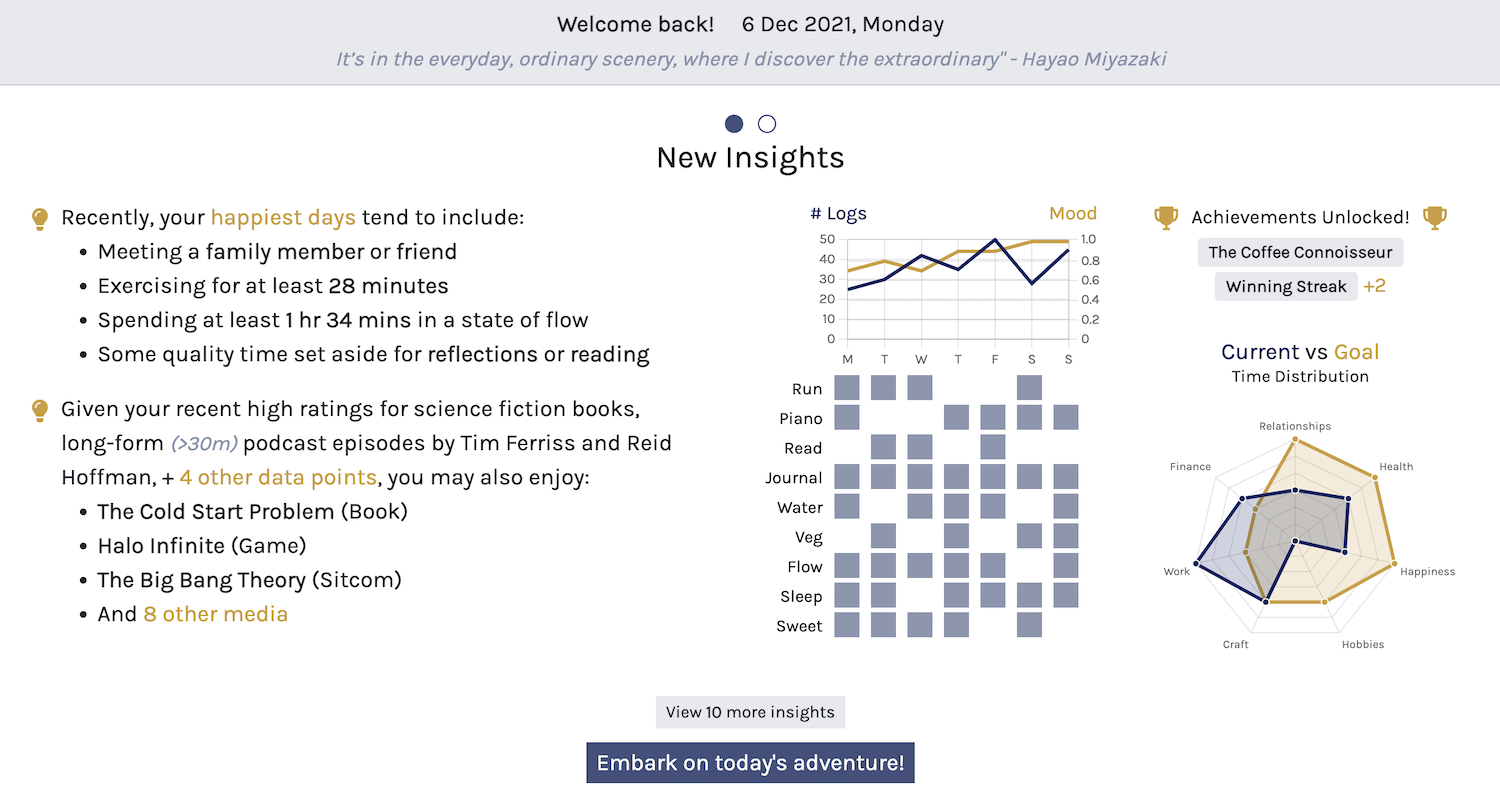 Next, kickstart your day with introspection by enjoying a cherished memory from your archives. Looking at old memories combined in interesting ways can often lead to fresh perspectives. Is it time to reconnect with a friend or pick up an old favourite series again? How has your life changed over the past week, month, or year?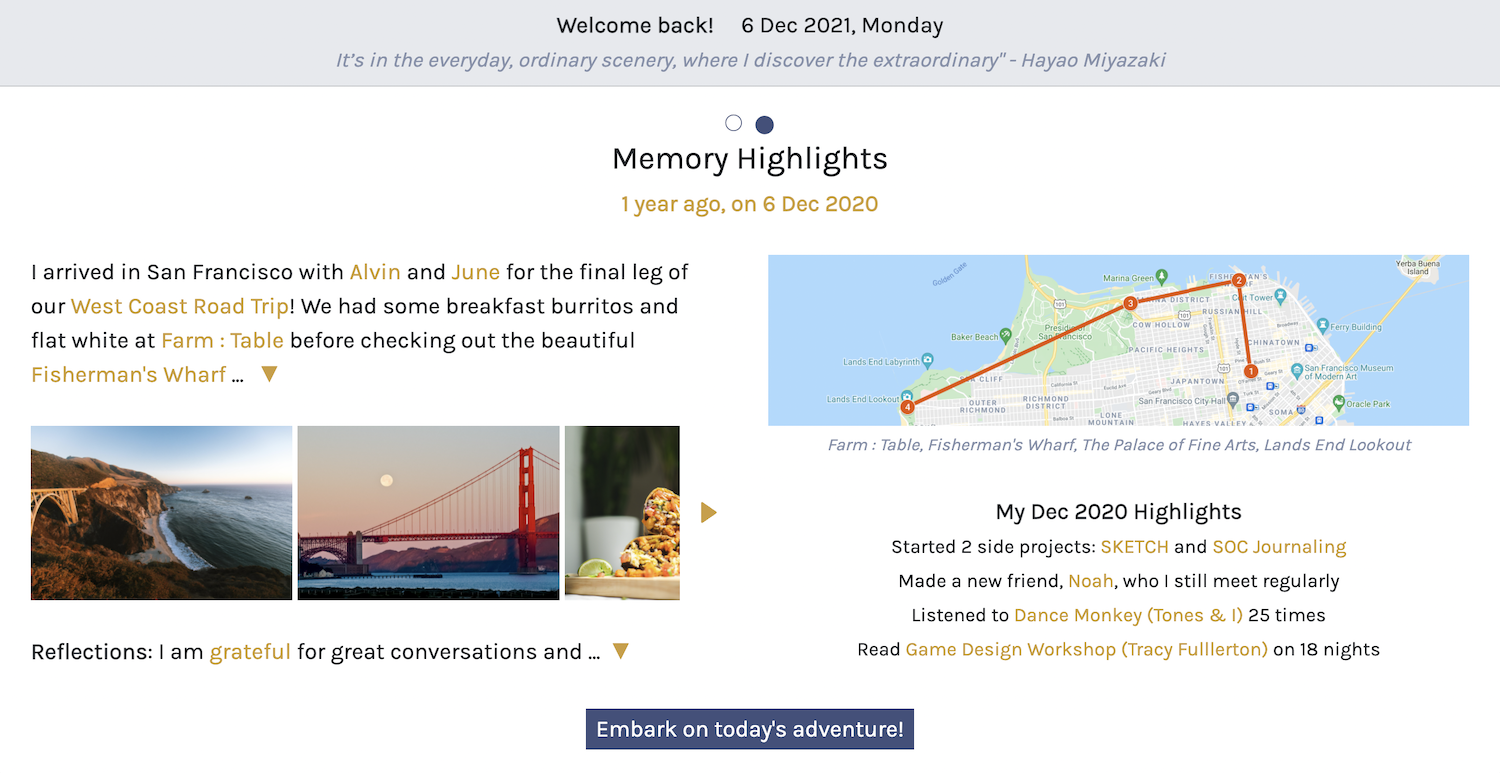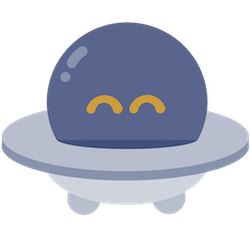 Your private and personal
Timeline
Clicking on

would lead you to the heart of the
Life Core
base module, the quintessential
Timeline
. Your private and personal Timeline houses the activities, reflections, and journal entries you have logged on TLC BOT or captured through connected platforms, interspaced with relevant insights and recommendations.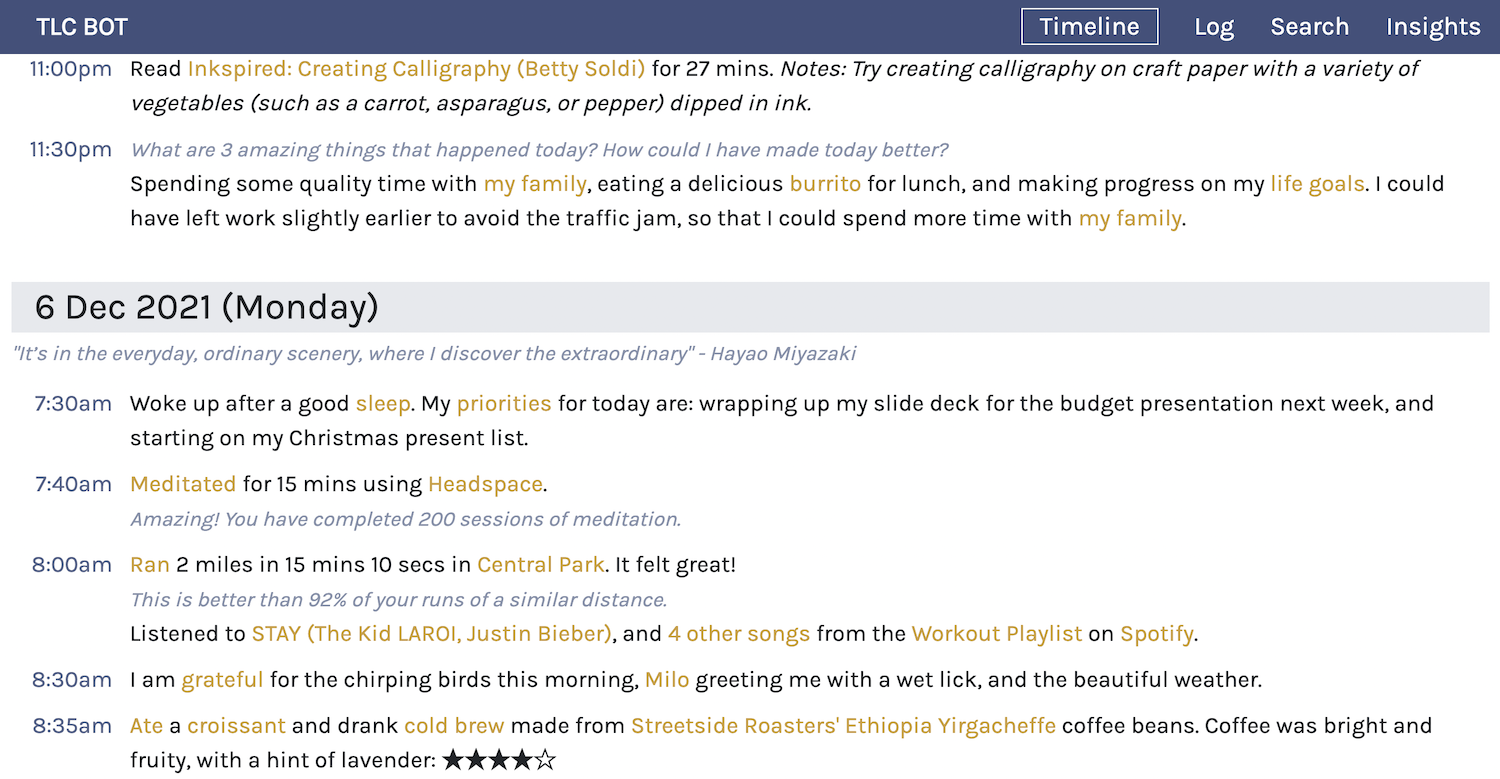 The Timeline is fully interactive and serves as an entry point for deeper dives, reminiscence and explorations. For instance:
Clicking on any of the logs would allow more details that you have recorded for that specific entry to bubble out. E.g. clicking on the

8:00am

entry would reveal a map of your running route, your pace, the "4 other songs", and other details you have logged on TLC BOT or captured through connected fitness applications and gadgets.
Clicking on any of the

golden text

would surface the Insights page for the entity. E.g. clicking on

Meditated

brings up the Meditation Insights page, which consolidates all meditation sessions, relevant statistics (e.g.

average length of sessions

), and personalised insights (e.g.

you tend to be less distracted on days with 15-18 mins of meditation

).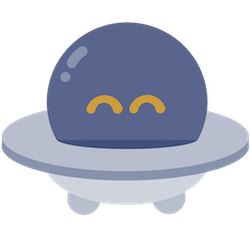 Log

every treasured memory
Inspired by some museum exhibits? Attended an interesting work event and met some important contacts? Mastered a particularly difficult piano song, before visiting a new dog park with your furry friend? Document your story — both the everyday moments and the life-changing events — by conveniently browsing through and logging hundreds of pre-defined activity types to your Timeline using TLC BOT's intuitive logging mechanics.


TLC BOT'S TIPS
Famed management consultant Peter Drucker once said: "if you can't measure it, you can't improve it"! Every additional entry you log allows me to derive and deliver more comxx, multi-dimensional insights and recommendations to you, which can be used to finetune and optimise your life.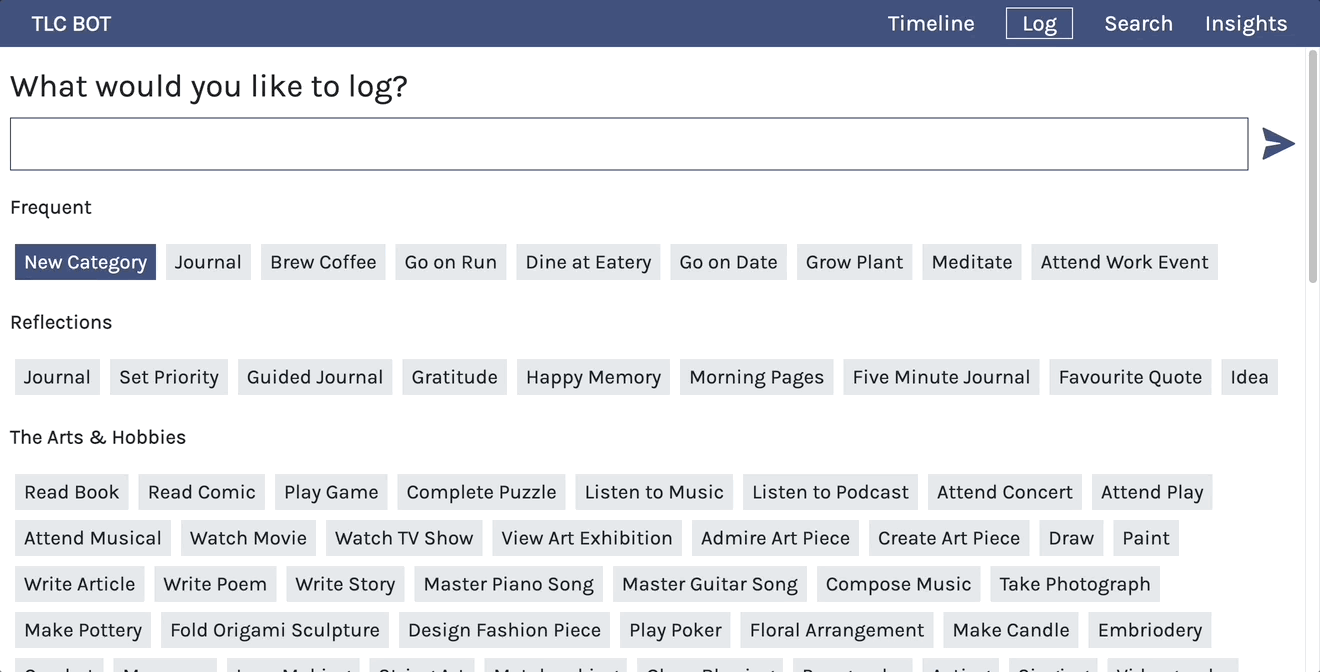 Choose your own adventure
: Easily craft your own activity templates to track custom activities.
Love hang gliding? Create a hang gliding template in seconds, to house the details that you would like to remember and analyse from each hang gliding session. Use the template to easily log the details of future hang gliding sessions on the Timeline.
The

Insights Expansion Pack

allows TLC BOT to quickly pick up on your unique logging preferences for each activity type, so as to prepopulate fields and generate recommendations that can improve the speed, intuitiveness and seamlessness of your logging experience.
TLC BOT is your accessible, trusty life companion journal, wherever life's adventures take you! Select from a wide range of carefully curated and contextualised journalling prompts and other reflection exercises to cultivate mindfulness, self-awareness, clarity and focus, and a greater appreciation for the little moments and small wins in life.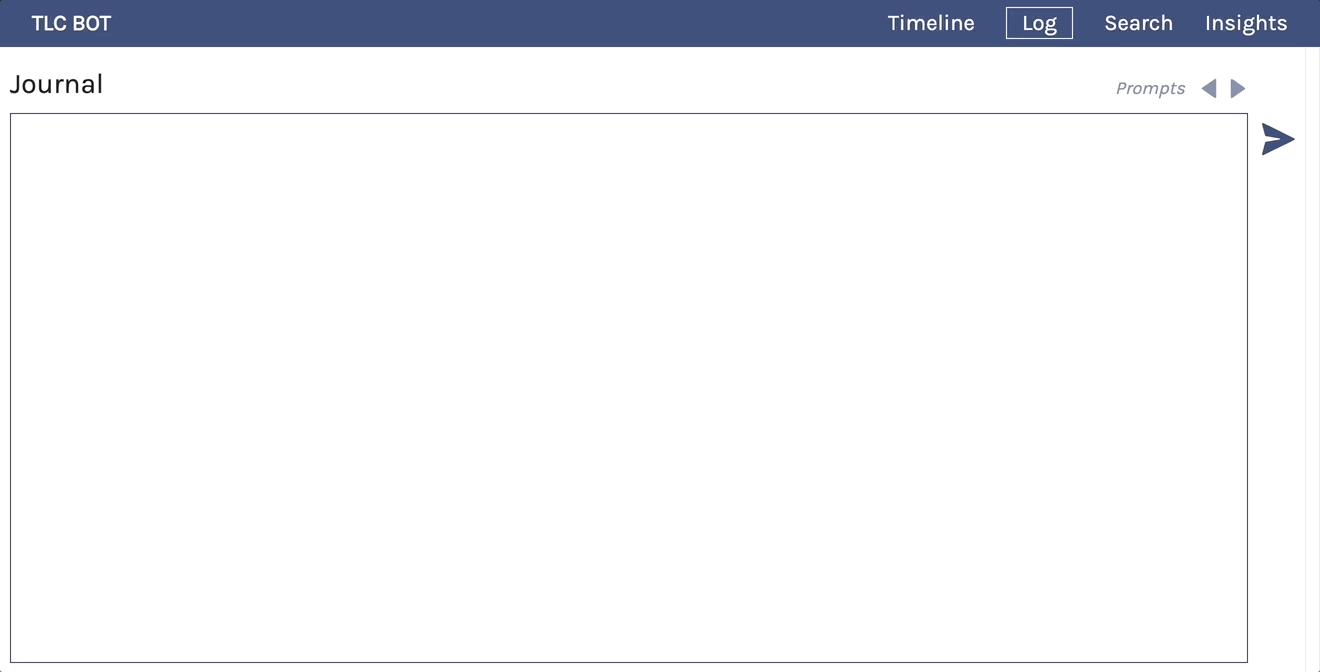 Handpick from thousands of intentional reflection activities and prompts:
Organise your thoughts by penning freeform diary and journal entries
Reflect critically on

personalised prompts

that reference your previous Timeline logs, e.g. "How was your first windsurfing experience?"
Safekeep happy memories through

gratitude journalling

Perform

negative visualisation

exercises to develop a greater appreciation for everything in your life
Identify your top

priorities

and focuses for the day
Log your favourite quotes, poems, and other sources of inspiration
Note down every interesting idea you dream up at the speed of thought and perform regular brain dumps before sifting through for gems
Respond to prompts from

The Five Minute Journal

, e.g. amazing things that happened today, daily affirmations, and more
Partake in 3 pages of longhand stream-of-consciousness writing daily as part of your

Morning Pages

routine
Already logging your activities through fitness gadgets, mobile applications, social media networks, spreadsheets, websites, and other platforms? Connect them to your TLC BOT account to enjoy fully integrated and seamless activity tracking. Alternatively, export your historical data and send them to
[email protected]
to take advantage of TLC BOT's advanced auto-logging capability.
TLC BOT'S TIPS
Aside from being able to view all of your activities on TLC BOT, connecting to multiple platforms enables
cross-domain insights
to be derived,
e.g. highlighting the Spotify workout songs that led to your best Fitbit workouts
.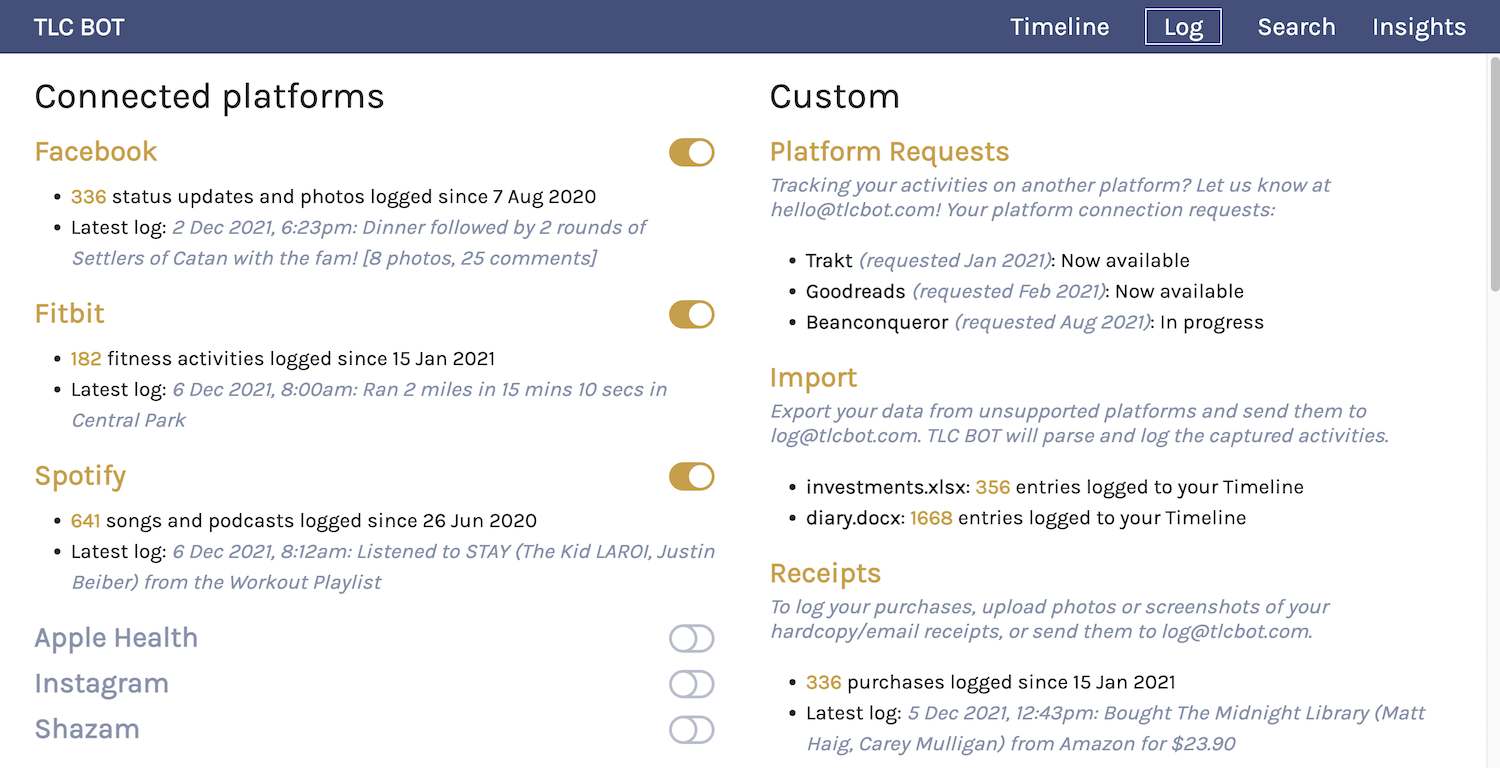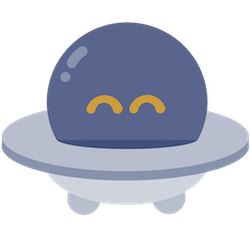 Search

through your second brain
Meeting a friend later today? Use TLC BOT's powerful search engine to pull up the corresponding Insight page, which consolidates all logs and reflections related to your friend. Revisit your last few meet-ups, conversations, and activities together, and let TLC BOT remind you of any other relevant details.


TLC BOT'S TIPS
Every activity type
(e.g. all museum visits)
, activity
(e.g. a specific museum visit)
, and entity
(e.g. a specific museum)
logged on the Timeline generates an Insight page, containing all relevant entries, reflections, details, and analytical insights. Find out more in the
Insights
section!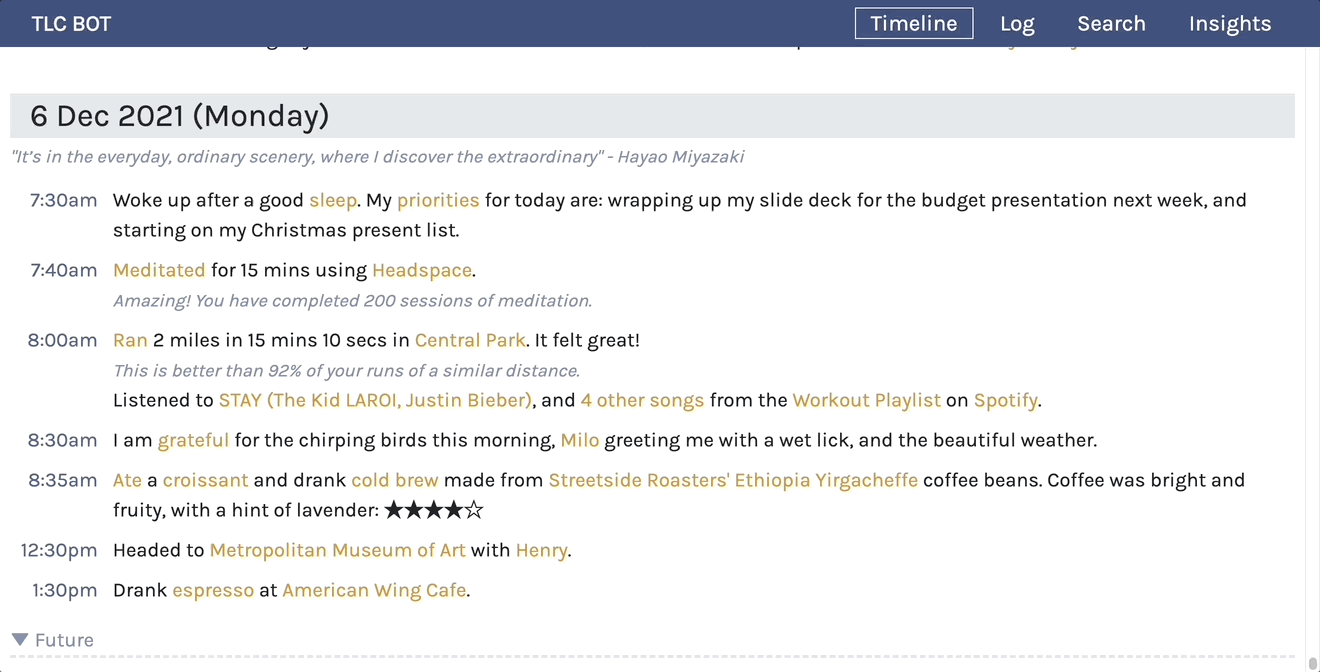 Your personal wiki
: Each Insight page houses a full-fledged wiki with fully extensible and customisable fields. Use it to keep track of details and attributes that do not change across log entries, such as a friend's birthday
(on the friend's Insight page)
, your favourite coffee recipes
(on the Coffee Insight page)
, your go-to meditation technique
(on the Meditation Insight page)
, and many more.
TLC BOT'S TIPS
Click on the beside the charts to customise the visualisations shown, per Insight page.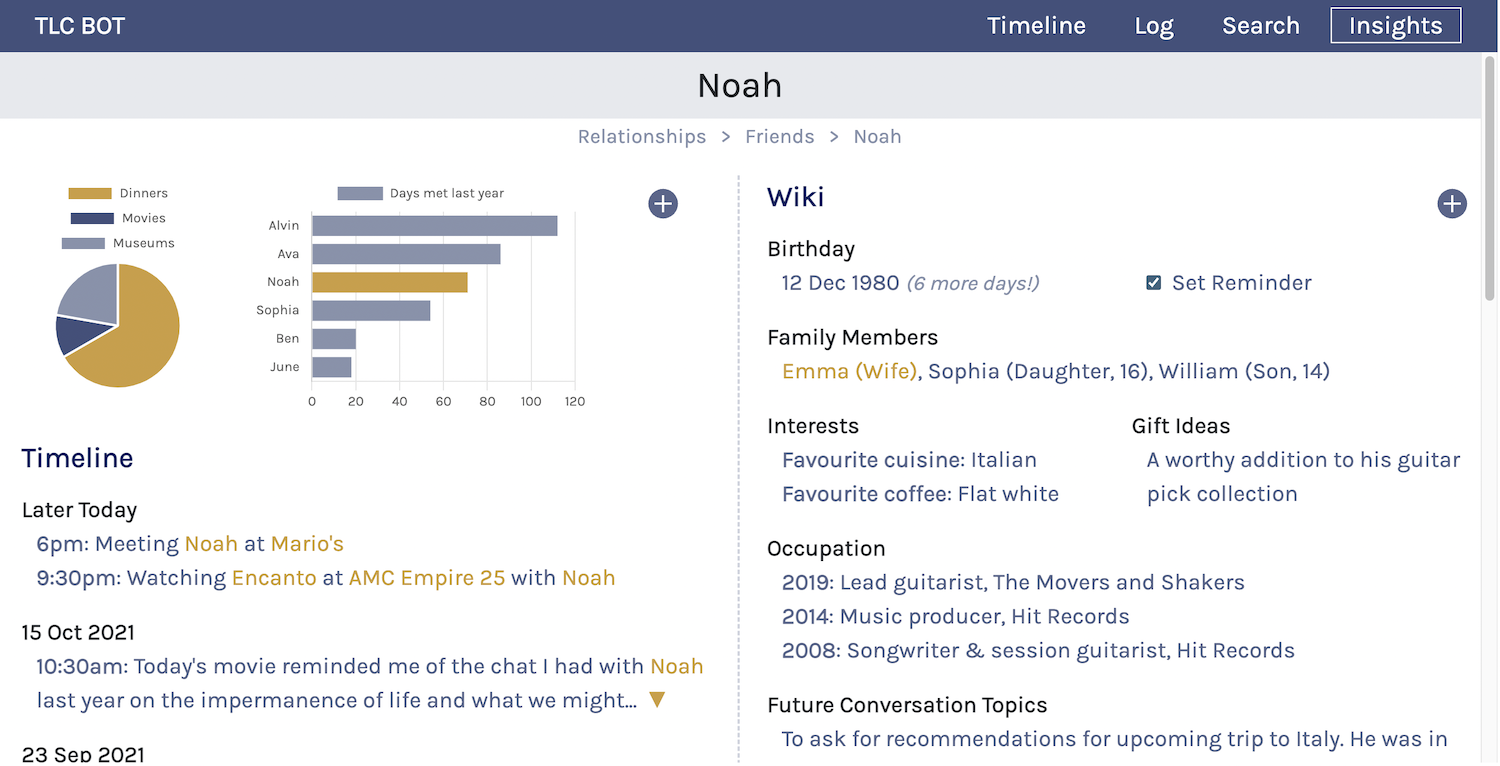 Ctrl + F for your brain
: What was the name of the restaurant where you had that scrumptious lobster? When did you last captured a beautiful sunset, mopped the floor, or reflected on a poem about cats? TLC BOT is the intelligent life search engine that you have always dreamed of! Simply enter a keyword, a combination of keywords, or even a natural language query
(e.g. "photos of trips with family before 2021")
to surface all relevant and related logs from your Timeline.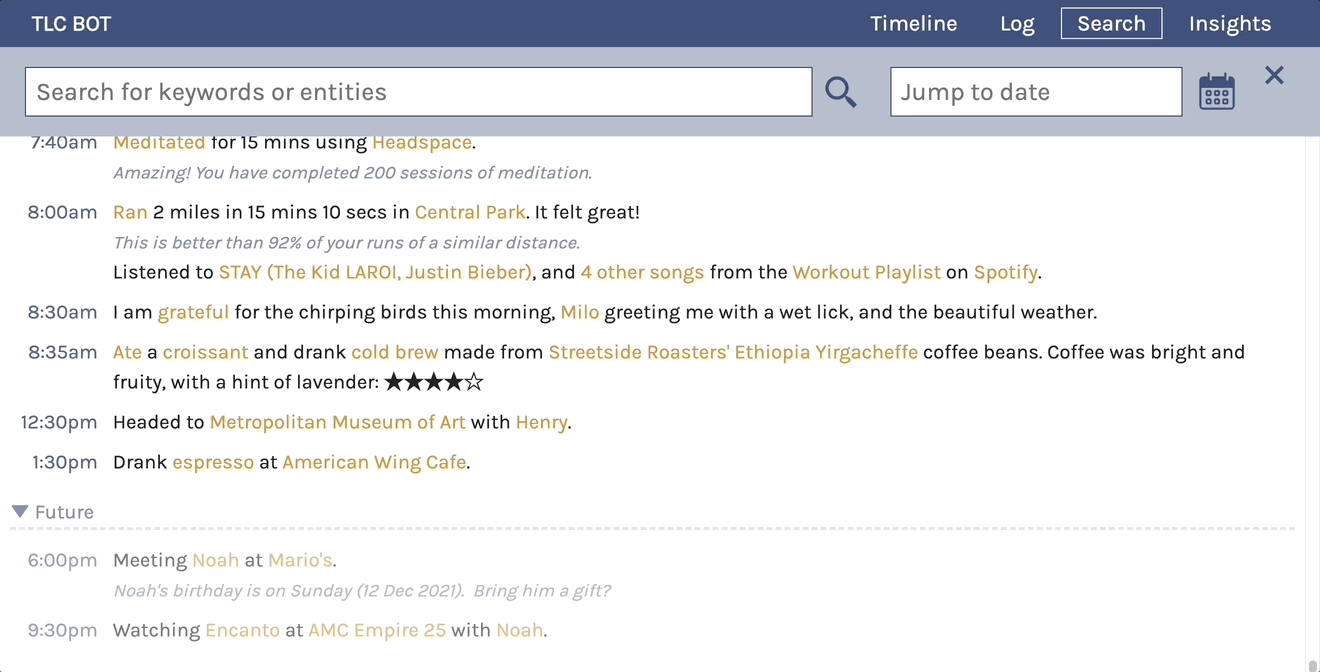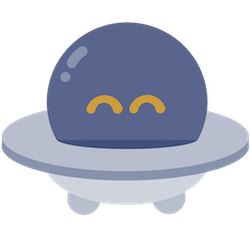 Live your best life with analytics-fuelled
Insights
The
Main Insights
page provides an overview of the most interesting analytics findings and recommendations across all the activities and reflections you have logged, including:
Activity and logging trends, across Relationships, Health, and your other main life domains
Achievements that you have unlocked from TLC BOT's stash of key milestones, to help fuel your personal analytics journey
Multi-dimensional and actionable insights,

e.g. recommendations for a book you might enjoy, based on your reflections, as well as books, movies, games, music, etc that you have rated highly

Data-driven personalised tips on how to improve a metric that is important to you,

e.g. what activities or combination of activities contribute towards happier days, better sleep, or stronger relationships for you? Is it better to sleep for an extra 30 minutes or wake up earlier to exercise?

And many more!
TLC BOT'S TIPS
Quantum leaps arise from consistent incremental improvements: thoughtfully tracking and improving your life allows you to look back years later and marvel at how far you've come!
Click on any of the domains or activity types to view the individual Insight pages.
The
Domain Insights
page allows you to map out the key areas of your life that matter the most to you, by grouping activity types under the domains that they contribute towards,
e.g. the Health domain could include logs of your runs, gym sessions, food consumed, etc
. TLC BOT provides a powerful framework and engine for you to meticulously design and review your domain-centric goals, and to receive personalised data-driven recommendations and insights to help you accomplish these goals.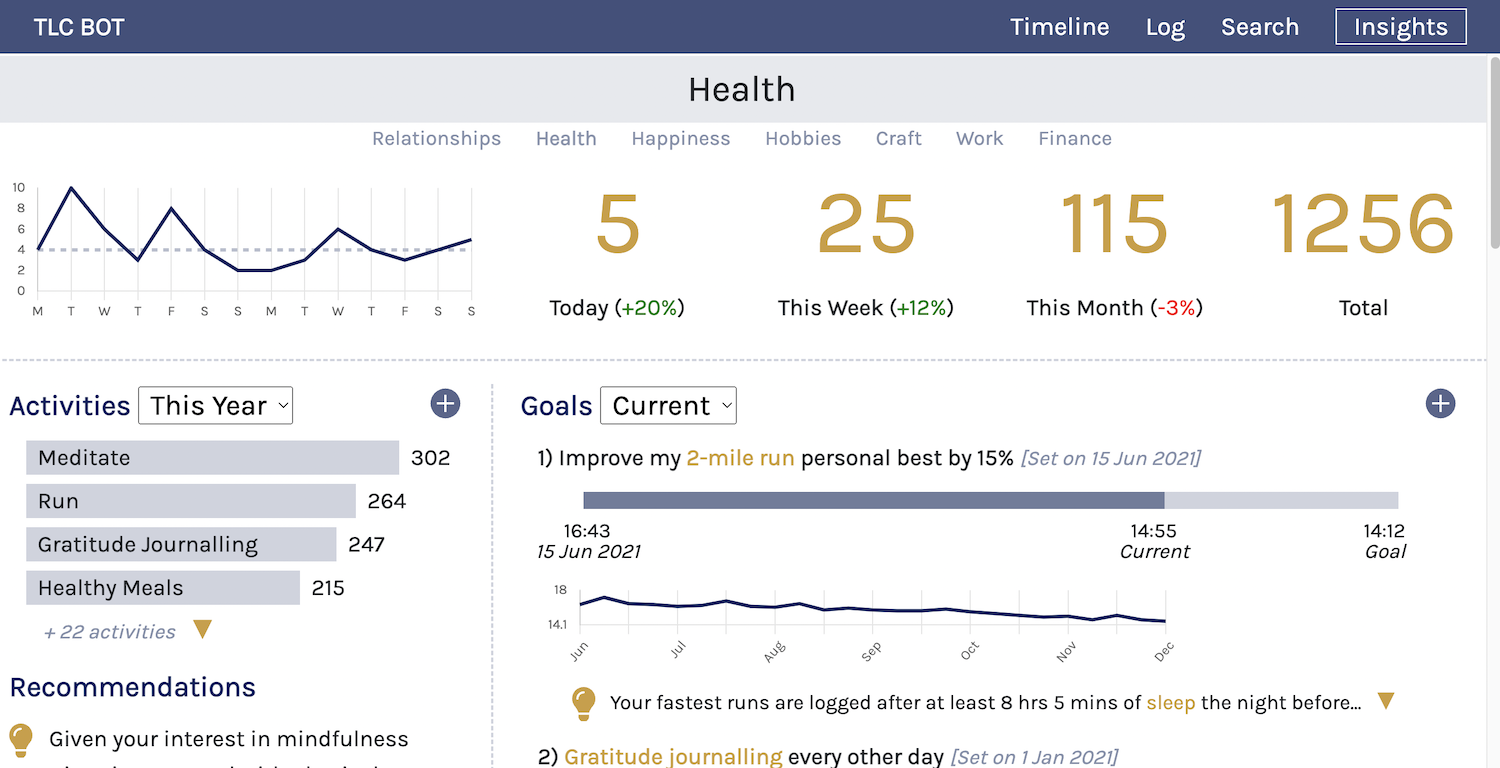 Finally, the
Activity Insights
page provides you with an overview of all the activities logged under a specific activity type, including:
Logging trends,

e.g. number of daily logs, times of the day when you tend to log the activity, etc

Ranking across multiple dimensions,

e.g. top roasteries based on your ratings of coffee brewed

Insights and recommendations,

e.g. what combination of origin, preparation technique, and flavour profile do you particularly love? What are some other coffee that you may enjoy?

List of all relevant logs, reflections, and tags on the timeline
A fully customisable wiki section for you to track your To Try list and any other details
And many more!
TLC BOT'S TIPS
Fully customise each activity type's Insight page separately to your heart's content, to show the key metrics and visualisations that are most important and relevant for the activity type!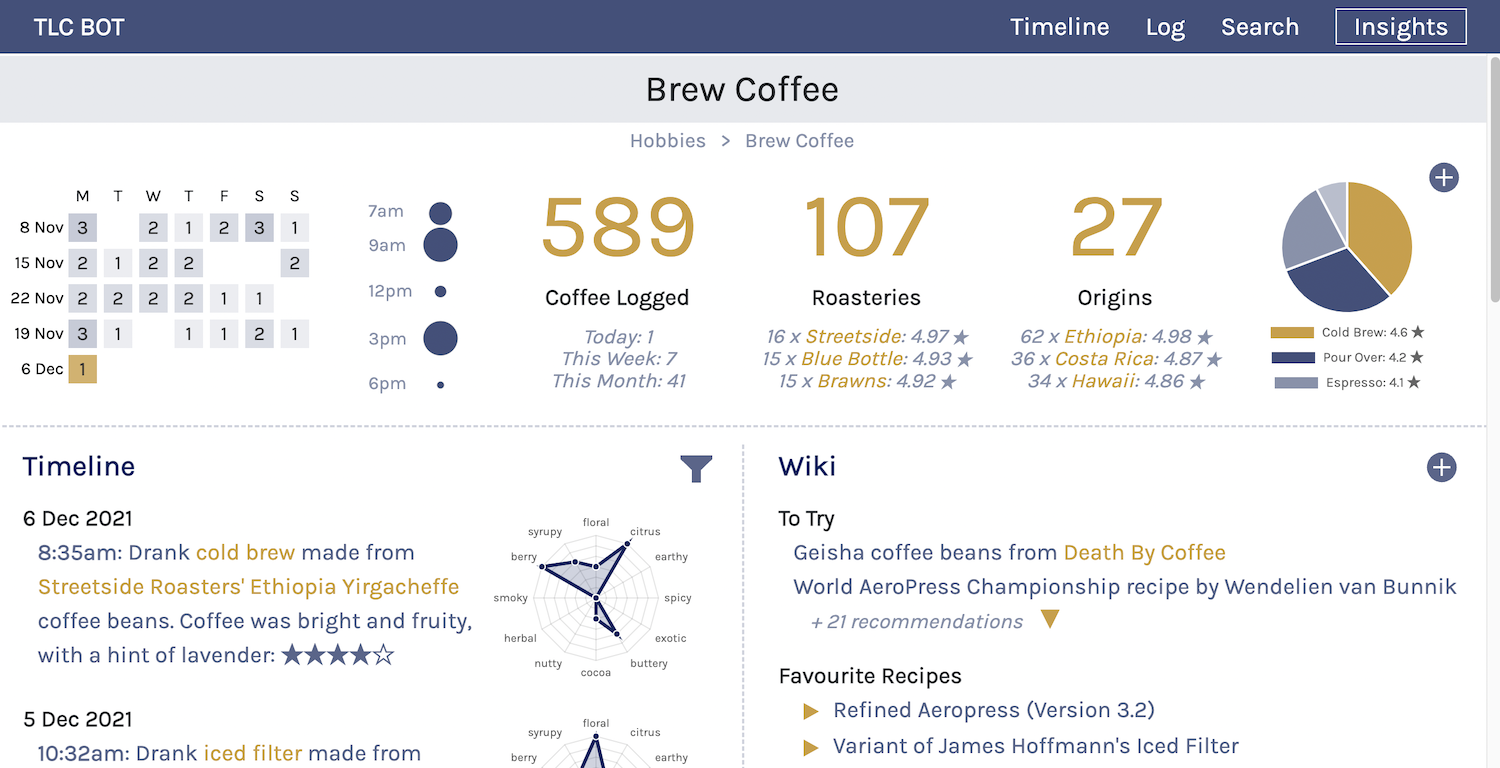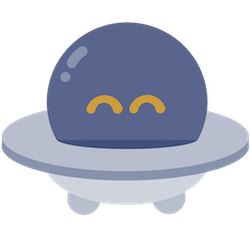 TLC BOT

is coming soon!

Join the wait list now to gain access to a free beta account,
and to lock in a heavily discounted price upon TLC BOT's full launch!